Special Savings On
complete Meet Spirit Guides audio meditation pack
Simplify your meditation process with this complete audio pack
This is the complete audio version of all the meditations and exercises in the last chapter of "Meet Your Spirit Guides" book. Plus there is a bonus meditation not found in the book.

Now you can put the book down, sit back and relax, and simply enjoy the guidance through each meditation or exercise.

Once you are familiar with the processes, you can use these to expand your journeys.

Have fun practicing with these meditations.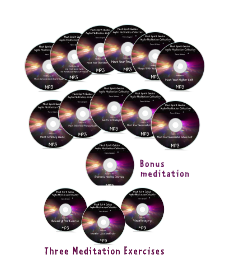 Use the link below to purchase the entire audio meditations collection valued at $79.95, for a very special price of $9.95 as a loyal customer reward.
These are only available in downloadable mp3 format at this time.
No physical product will be delivered.
What Clients Like the Most:
It's Fast!
These meditations only take 5 to 10 minutes, so they fit into a busy schedule.
It's Powerful!
You are directly connected with your guides that want to help you.
It's Personal!
The meditations are designed to interact with guides on your specific issues.
It's Easy!
These are partially guided. All you need to do is sit back and relax.
Copyright 2014 - Tianna Galgano - All Rights Reserved