Would You Like to


Tune in to Your Intuition
- on Demand?

It IS possible with Tianna's "Intuition Location Process"©
VIDEO Tutorial - A demonstration
of the Intuition Locator Process


AUDIO version -
Be personally guided
through the process

ORDER NOW!
Get the AUDIO or the VIDEO or both.
Click button below.
You may already perceive a 'gut feeling' as an intuition. This process teaches you how to pay attention with your intuitive ears and truly hear verbal communication from Spirit.
Have you ever read a dream interpretation book
that tells you to tune into your intuition to interpret your dreams?
But then did not have a way to help you do that?

Have you read an article or listened to a broadcast that told you
that paying attention to intuition is vitally important for spiritual development?

But what if you don't know HOW to tune-in to your intuitive voice
when you need to?
I have a solution...
My "Intuition Location Process" was gifted to me by Spirit.
I had a special dream and awakened with the process in my mind.
I have tested this process for three decades with thousands of people.
It has worked amazingly well for 99% of the people who tried it.


Watch my demonstration VIDEO,
you are shown how quickly the Intuition Locator Process works as a way to
pinpoint the unique, specific place where you hear your intuitive voice.
Watch and learn as I take a person through the steps.

Listen to my AUDIO version. It lets you sit back, relax and be guided through the steps.
You can easily discover HOW to listen to your intuitive voice.
From then on you can be interactive with Spirit. You can ask questions and get answers.
The Intuition Process is so easy, that children have been able to do it.
Imagine, being intuitive when you want to be!
The Intuition Location Process enables you...
To discover the exact location of your "Voice of Intuition."
To 'tune in' to your Intuitive voice any time you want to.
To ask Spirit for guidance, & get it immediately.
Conscious attention to intuition becomes automatic.
You will also learn how intuition 'feels right.'
Be able to TRUST your intuition from now on.
Enhanced intuitive ability will expand your spiritual growth.

Be on the FAST-TRACK to Intuition Mastery

"Intuition Location Process" Tools -
Three Different Offers

AUDIO Recording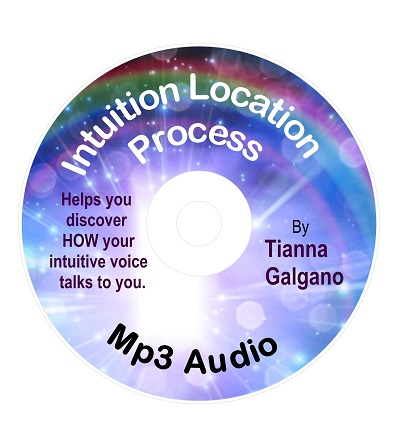 VIDEO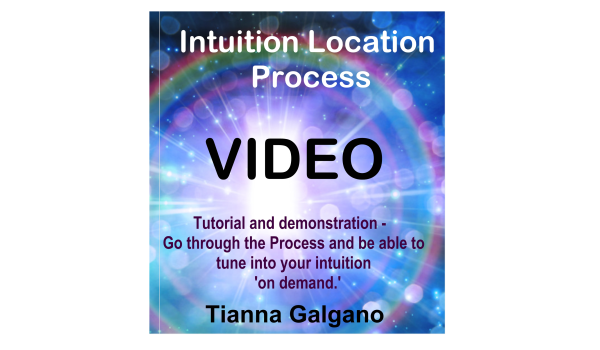 AUDIO & VIDEO SET
1. Get your AUDIO
Recording
of the
"Intuition Location Process."

Sit back, relax.
Be personally guided
through the steps

2. Get your VIDEO
Tutorial
of the
"Intuition Location Process."
Follow along with
this demonstration video
as I take a person
through the process.
3.The BEST Deal!
Order BOTH...
Get the
AUDIO and VIDEO
at an
introductory price.
Limited time offer.
Huge Discount
Sale price from this link:
Sale price from this link:
NOTE: If you ordered and paid from a smart phone,
but, were not immediately re-directed to my download page...
please click on the button (below) to contact me. I will make sure you get your order.
You cannot download directly onto an iphone or ipad.
You need an app to do that.
You can download onto your computer and transfer to any device.
In 1985, I did an intensive research project with several hundred people, I discovered how Spirit uses your brain's neural pathways to "talk" to you.

My specialty is connecting science and Spirit. I found the way to hone into the Voice of Spirit with a simple, directed eye-movement. This provides a brain-soul interconnection, that once established, is always there, on demand, when you need spiritual guidance.

A huge bonus is that you can ask questions of your Source of Intuition and receive answers - on the spot!
Tianna's books go into detail about Intuition.
Learn how to become adept.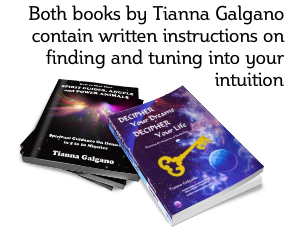 Would you like to learn how use your intuition to interpret your dreams?
Decipher Your Dreams, Decipher Your Life,
has a chapter on how intuition - combined with the "Dream Decipher Process" - is used for dream interpretation. This book has step-by-step instructions for the "Intuition Location Process." Calling upon your 'Voice of Intuition' is the key to accurate interpretation of your dream's symbolism.
The Intuition Location audio recording comes as a FREE download when you purchase this book. Sale-priced for a limited time.
Click here
...
A strong connection to intuition enhances meditation.
How to Meet Your Spirit Guides, Angels and Power Animals
outlines the Intuition Location Process as it applies to meditation. Readers can order the entire collection of meditations in this book for $29.95.
The Intuition Locator Process Audio is included with that collection.
Click here
...
"Thanks for your class on intuition training. I really liked how you taught us how to EASILY tune into our intuitive voice and be able to clearly hear our intuition.
That was a true gift to me. My profound insight is that all I have to do is ask and that I can find out what I need to know.
You are absolutely a great teacher. I had a great learning.
C. B. Reflexologist

"Tianna's Dream Workshop was awesome and life changing!
Tianna is gifted in helping you get in touch with your intuition & helping you to Decipher your dreams! "
Cathie G.Retired Teacher
Tianna's book is a comprehensive manual on the many ways that intuitive information is available to us through spirit guides, angels, saints, wise beings, power animals - and more. Angie
Tianna's "Meet Your Spirit Guides" book promises Spiritual Guidance on Demand. And really, it truly IS possible!! This book is super easy to follow and concise. Tianna empowers the reader to discover their own unique style of intuition with specific exercises. She offers numerous guided meditations to assist the reader in accessing the resources they need. I have found this book gets to the point and is practical and encouraging. Highly recommend it!" Roseann